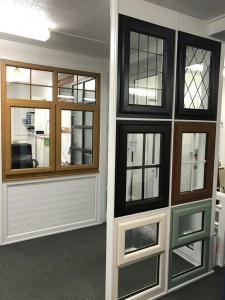 Our Profile 22, Optima A-Rated casement window is made from virgin polymer and features market leading advancements that set it aside from other windows on the market. These days when it comes to upvc windows there is a spectrum of quality and ours sits on the high end. There are certain things to look for if you want something that is going to stand the test of time and make make your home stand out.
Aesthetics – Our window is a fully sculptured profile that has symmetrical sight-lines. This might be picky but we are picky in every way. If you look at some windows from the outside, the welds in the corners of the opening sashes don't line through with the welds on the frame itself. Our windows do. This means from the road, your new casement windows will look as they are supposed to.
Security & Safety – A lot of this is highly geeky but you can't geek-out too much when it comes to the security of your home. A central euro-groove gives superior security and strength, add to this four locking points as standard on all opening sashes plus because we take security really serious you can choose to add anti-jemmy blocks to opening sashes to add an extra two locking points and increase security further.  As well as being secure, our windows are designed to be safe. Any window and door which is required to have toughened safety glass will do so. By design, toughened safety glass is there to protect you and others in the event of a fall into the glass, rather than breaking into shards in 'bursts' into thousands of tiny pieces. To add an extra element of security to this safety glass we can install laminated glass to any risk areas such as patio and french doors. Adding laminate glass to doors and windows helps towards achieving the Secured By Design status which is The Official Police Security Initiative focusing on design and security for homes.
Energy Efficiency – Being more efficient with the heating of our homes, spending less money on fuel and reducing our carbon footprint is a moral obligation each of us face every day. Our A-Rated, 28mm, Low-e, argon-filled double-glazing or 40mm A-Rated, Low-e, argon-filled triple-glazing, can help you to fulfil part of this obligation. Both units feature warm edge 'spacer bars' to reduce heat loss through the glass. C-Rated glazed units use an aluminium spacer bar (the bar which separates the panes of glass), C-Rated still conforms to building regulations but in our view is a cheap alternative and an archaic method of glazing. Because of the high conductivity of aluminium, in a C-Rated unit the spacer bar leeches heat from your home through the bar. Our warm-edge spacer bar is made from a  composite material, which doesn't conduct as well, therefore you lose less heat through it. Further to this, our units are filled with argon. Argon is a dense gas which acts as a barrier to keep heat in your house
Performance – Not only are our windows nice on the eye, secure and energy efficient, they also perform to a very high standard. With 10mm coverage on all weather seals to provide better draught resistance and extra deep drainage to carry water away quickly and improve weather performance, they are streets-ahead of other frames on the market. To back this up we give a comprehensive 10 year guarantee on all window frames, glass, hardware and fitting and from a company who has been in business continuously for almost 30 years you can rest assured that we will be around to honour your guarantee.