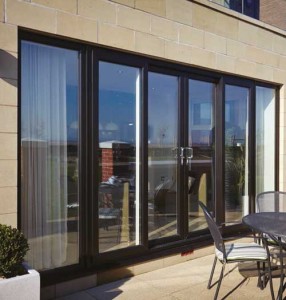 Be bold. Open up your home. Fill it with natural light and see what an amazing difference it makes to the way you feel. Seer what happens when you entertain. A simple glide of the door on it's purpose-designed, steel tracks and you can feel the connection between your indoor world and the one outside. Close the door and feel the comfort. Appreciate the peace and quiet.
Optima sliding doors can be configured to suit any home. There are sizes to fit everything from a cosy terrace to your grand design. With up to four panes in the door itself you can opt for an even more dramatic look by adding panes at the side. Creating a wall of glass really does transform your home. Use sliding doors anywhere: to step onto the patio or finish a conservatory. Or think about the possibility of a hideaway at the bottom of your garden – a place where you can work or relax, safe and warm, in a beautiful, insulated space.
Every single sliding door we make, whatever its size or layout, is designed and proven to be safe, surpassing the requirements of building regulations . We've tested our doors in extreme weather conditions and proven they're up to the job. Every pane of double-glazing is toughened for safety, argon-filled to achieve A-Rated status and can be laminated for security.  We want you to love living in your home, and we know that a big part of that is feeling secure. We've gone back to the drawing board to ensure that our sliding doors have the features you want: anti-bump, anti-drill, anti-snap, multi-hook locks and reinforced frames.